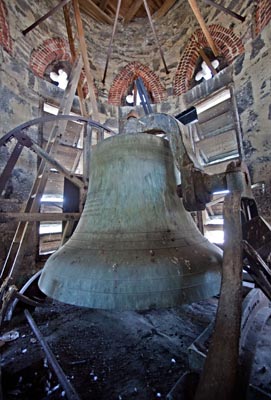 According to a September 9 article in the Philadelphia Inquirer, the city of Philadelphia has issued a formal warning to Manayunk's St. John the Baptist that their 3 1/2 ton clocktower bell, installed and in use almost consistently since 1906, is too loud. The warning originated from a complaint of a neighbor of the church, who wants the bells--which currently chime three times a day, at 7 a.m., 12 noon and 6 p.m.--silenced because they're "disrupting her quality of life." Failure to comply could carry a $700 per day fine.
In a second article in the Inquirer, dated September 10, Councilman Jim Kenney, whose district includes Manayunk, called the warning and threat "silly," and said he would draft legislation to amend the current noise laws to exempt churches and schools.
The Project: It was barely two days ago that I stated I had seen it all. Now, a mere 48 hours later, I'm forced to retract that statement. Complaining about church bells? That's cold.
There's understandably a lot of reaction to this incident, and a lot of opinions being bandied about. This isn't a Roman Catholic issue or even a religious issue. What this is really is about is entitlement--the sense of self-importance that comes from some people believing that the world should suit their needs and kowtow to their whims, regardless of how ridiculous they may be.
The Project, naturally, sides with St. John the Baptist. You don't like the bell? Fine, move. But you don't get the right to move in and suddenly destroy something that's been around far longer than you have. The parish is nearly 170 years old; the church itself is 106, and the bell 104, and it's been ringing ever since with nary a complaint. It's earned the right to do whatever the hell it wants, you haven't, so shut the $@#% up and deal with it.
The city's involvement does complicate things, and we can only hope Councilman Kenney's involvement is more than just hot air. City Council's general incompetence isn't encouraging, but they do tend to excel at weird and sometimes trivial things. Hopefully this is one of those times.
And really, in an area that gets far more disruption from constant bar fights, public urination, heavy traffic and other general rowdiness, the fact that a church bell upsets you really says something about your priorities.
Ring it loud and ring it proud, St. John.