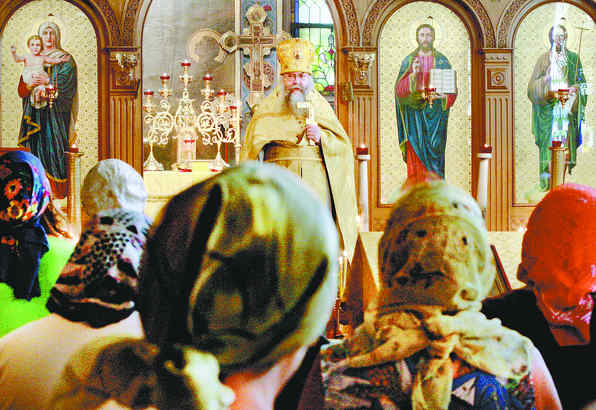 According to the front page article in today's Philadelphia Inquirer, "A Frayed Connection: Facing a New Schism," many of the churches in Northern Liberties, mostly of the Eastern-European and Orthodoxy variety, are struggling mightily to survive. One of those named is the Ukrainian Catholic Cathedral of the Immaculate Conception, which the Project visited late in 2007.
The neighborhood's renaissance has generally been good news, but not for its religious institutions, which are suffering from changing demographics and a new populace that doesn't seem quite amenable to traditional religious institutions.
The Project Says: It's always good to see such coverage from non-religious media. A terrific piece of journalism all around, the article sharply paints the picture of what happens to neighborhood institutions, namely churches, when the populace changes and new residents don't share the same conviction, or don't come out in the same numbers.
We've seen it before numerous times, but our experiences have generally been limited to neighborhoods that become sparser and poorer. The case in Northern Liberties is provocative, to say the least, precisely because the neighborhood is so good, so popular, so trendy.
It brings to light an overlooked aspect of church survival, but perhaps the most important. More so than demographics and income, a neighborhood needs to share a connection with its religious institutions.
Part of that comes from the churches themselves, who need to find a way to connect with residents. And on that front, the article correctly points out that the churches haven't done a good job of that. NoLibs may be incessantly, even insufferably trendy, but hipsters can and will swallow anything. You just have to sell it to them. Not always an easy task, if you've traditionally catered to a particular ethnic community, but it's time to innovate or die. A shame, too, since some of those buildings are kind of lovely.
An interesting footnote: despite focusing mostly on the Orthodoxy, the article does briefly mention the Roman Catholic St. Peter the Apostle. Not struggling, of course, but the article implies that the parish's survival is due to its status as the home of the shrine of St. John Neumann. The comments by one of the priests, who maintained that St. Peter isn't really resonating with the neighborhood, support that.
The Project has long felt the same thing, and has opined several times that the church most certainly wouldn't still be around if not for the shrine. Even for seemingly successful parishes, the line is thinner than we realize.