Stumbled across a great item today: a comphrensive text and photo history of the former Roman Catholic parish of St. Ladislaus, Nicetown's Polish national parish. The parish, which was founded in 1906 and closed in 2003, was one of the last victims of the dreaded North Philadelphia Swath of Destruction. Frankly, I'm shocked it even made it to 2003.
Anyhow, because the place was promptly demolished, The Project hasn't really been able to learn much about it. Until today, that is.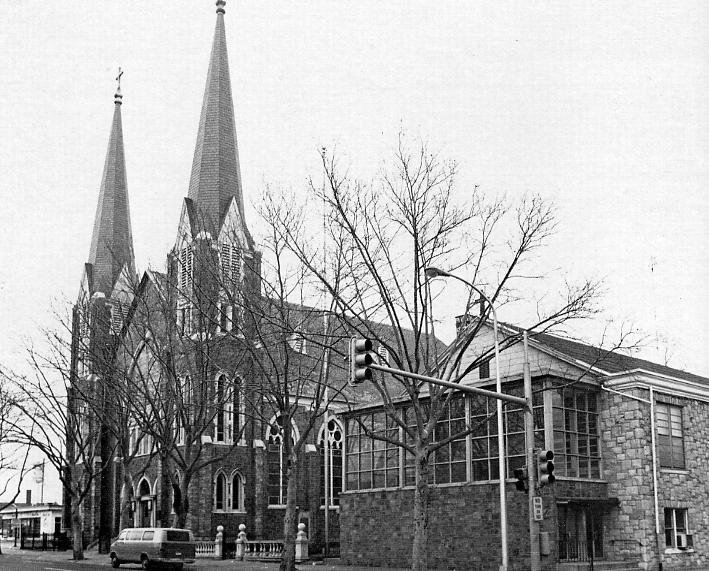 The exterior reminds me a great deal of St. John Cantius. The interior strikes me as another sterling example of Polish extravagance, as seen in St. Adalbert, St. Laurentius and others. No one can really outclass the Polish when it comes to religious architecture, and this looked to been one of the best of them.
What's most striking about the case of St. Ladislaus is the quickness of its demolition. Most parishes languish for years before being Caveat Emptor'd, suffering through The Long Goodbye, or being bulldozed. Or, for the really unlucky parishes, a combination of one or all of them.
Ladislaus was done away in surprisingly quick fashion. The parish only closed 6 years ago, yet its buildings have already been demolished and replaced with a modern monstrosity of a megachurch. (The Triumph Baptist Church, if you want to know.) I'm just surprised that land in Nicetown was in such high demand. I'm also surprised that Triumph didn't just try to adapt the existing structures into something useable. Of course, given the Universal Church's disastrous flirtation with Pimp My Church, it's probably best that they spared Ladislaus the indignity.